[[[THIS IS AN EVENT ON THE NORTH AMERICAN TARLACH SERVER!!!​!]]] :)
The Amazing Capulet Birthday Bazaar
is an event for the entire community to enjoy!
It will take place on this
Saturday, September 14th
to celebrate our guild turning
5
years old!
The Bazaar will have
shops
set up and
multiple events/contests
hosted in
Qilla Ch5
After the last event, our fireworks show, we will be having a
Masquerade
at the
ch7
banquet.
There will also be a
raffle
to win a code to get a
Neko Robe!!!!!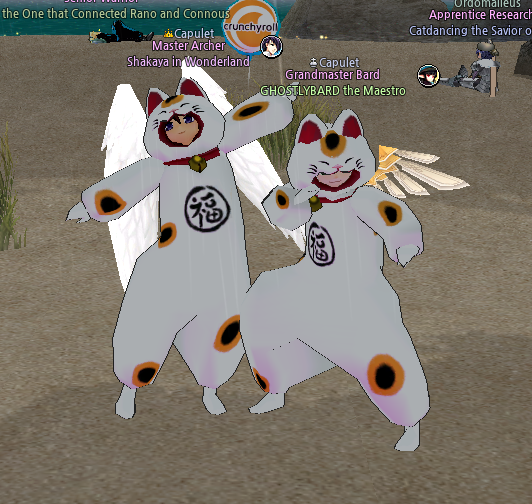 Each raffle ticket is
1k
each, and you can buy as many as you like. For each 1k you give me I will write your IGN down
on a slip of paper and put each slip into a trash bag. After I have everyone's tickets gathered I'll mix the bag up and draw~
The events/contests with their times are posted below:
8 am Pacific, 9 am Mountain, 10 am Central, 11 am Eastern, 5 pm Central EU
Skits:
gem prizes for each round (channel 5)
10 am Pacific, 11 am Mountain, 12 pm Central, 1 pm Eastern, 7 pm Central EU
Rock Paper Scissors Tournament:
prizes are a mini club spear and a 500k check (channel 5)
(if RPS is a flop due to people not saving their cards, we'll do more skits)
11 pm Pacific, 12 pm Mountain, 1 pm Central, 2 pm Eastern, 8 pm Central EU
[[Selling raffle tickets during this event, 1k each, find Shakaya to buy]]
GHOSTLYBARD's Drawing with ghost fluid event
(channel 5)
1 pm Pacific, 2 pm Mountain, 3 pm Central, 4 pm Eastern, 10 pm Central EU
[[Selling raffle tickets during this event, 1k each, find Shakaya to buy]]
Makola's PvP tourny:
(channel 5)
Prizes: signed valencia F by Repntojesus, Enchanted Glory Sword, 500k check
4 pm Pacific, 5 pm Mountain, 6 pm Central, 7 pm Eastern, 1 am Central EU
Fireworks show and the raffle winner will be announced
(channel 5)
7 pm Pacific, 8 pm Mountain, 9 pm Central, 10 pm Eastern, 4 am Central EU
Masquerade Ball at the Tara Banquet in (channel 7!)
-------------------------------
Edit: I am afraid I only know how to calculate the Central EU timezone. If someone here would be so kind to
transfer that to all the European time zones for me I would greatly appriciate it!
I always try to host community events at times that can be somewhat convenient for European players too, and this is the
first really big event I've ever thrown, so I hope that having things at multiple times in the evening and morning for you will allow
you guys to come to a few of the events, if not all. I hope to see you all there!
Edited by Shakaya, 11 September 2013 - 07:22 PM.